Paradise Chocolate Fest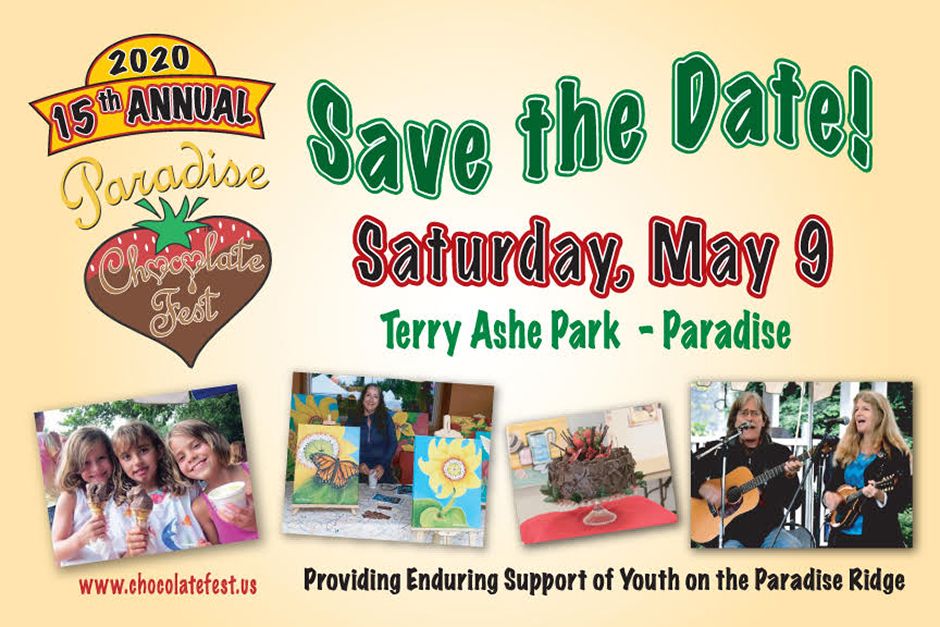 15th Annual Paradise Chocolate Fest! A Chocolate Extravaganza!
9:00 AM – 5:00 PM • Terry Ashe Park 6626 Skyway Paradise
Providing Enduring Support of Youth Organizations on the Paradise Ridge "The Paradise Chocolate Fest is the place to indulge your love of all things chocolate!"
The Fest features Chocolate Candy Land where you can dip into decadence at the large chocolate fountain or visit chocolate booths and professional Chocolatiers with countless chocolate delicacies, desserts, confections and scoops of yummy Ice Cream for sale.
Fest attendees will also enjoy "Art in the Park", "All About Books", "Green Scene Outdoor Classroom" craft, commercial and community booths and a wide range of delicious food selections.
Young Fest goers will have great fun visiting the Kidz-Zone including giant inflatables, carnival games and prizes, costumed characters, face painting, arts & craft projects, contests, hands-on exhibits & demonstrations and musical entertainment and performances.
Special events include a Chocolate Cuisine Challenge, Chocolate Pie Eating and Cookie Stacking Contests, Super Sensational Ice Cream Sundae Eating Contest, Young Author's Writing Contest and an all-day Musical Tribute to Paradise.
Highlights Include - "Paradise Strong" / "Butte Strong" Exhibit & Community Info Booths. AND - "Chocolate, Wine & Brew Tasting Garden featuring Guittard Chocolate Company tastings and the North Valley's premiere Wine and Craft Beer selections & Live Music. 21 & older.
Admission - $5.00 • Children 4 & Under – Free. Admission Includes - Free Chocolate Samples! Free Chocolate Pie & Ice Cream Eating Contests!
Free Kidz-Zone Bounce House & Super Slide, Carnival Games, Crafts & Prizes! Musical Tribute to Paradise! Free Raffle Prizes! Free Parking!
Support of Educational, Enrichment, Recreational & Leadership programs benefiting Youth on the Paradise Ridge.
Paradise Chocolate Fest is ranked among the "Best of the Golden State!" at Cal Expo. We are delighted!
Paradise Chocolate Fest provides enduring support of non-profit organizations that provide educational, enrichment, recreational and leadership opportunities to youth on the Pardise Ridge.
2020 Beneficiaries
Achieve Charter School, Boy Scout Troop #316, Boy Scout Troop #770, Children's Community Charter School, Cub Scout Pack 316, Cub Scout Pack 770, Girl Scouts, Gold Nugget Museum, Paradise Elks Lodge, Paradise Friends of the Library, Paradise High School Band, Paradise Host Lions Club, Paradise Junior Football, Paradise Piranhas Swim Team, Paradise Recreation & Park District, Paradise Rotary Interact, Paradise Stronger, Rainbow Girls and Ridgeview High School Rangers.