Paradise Chocolate Fest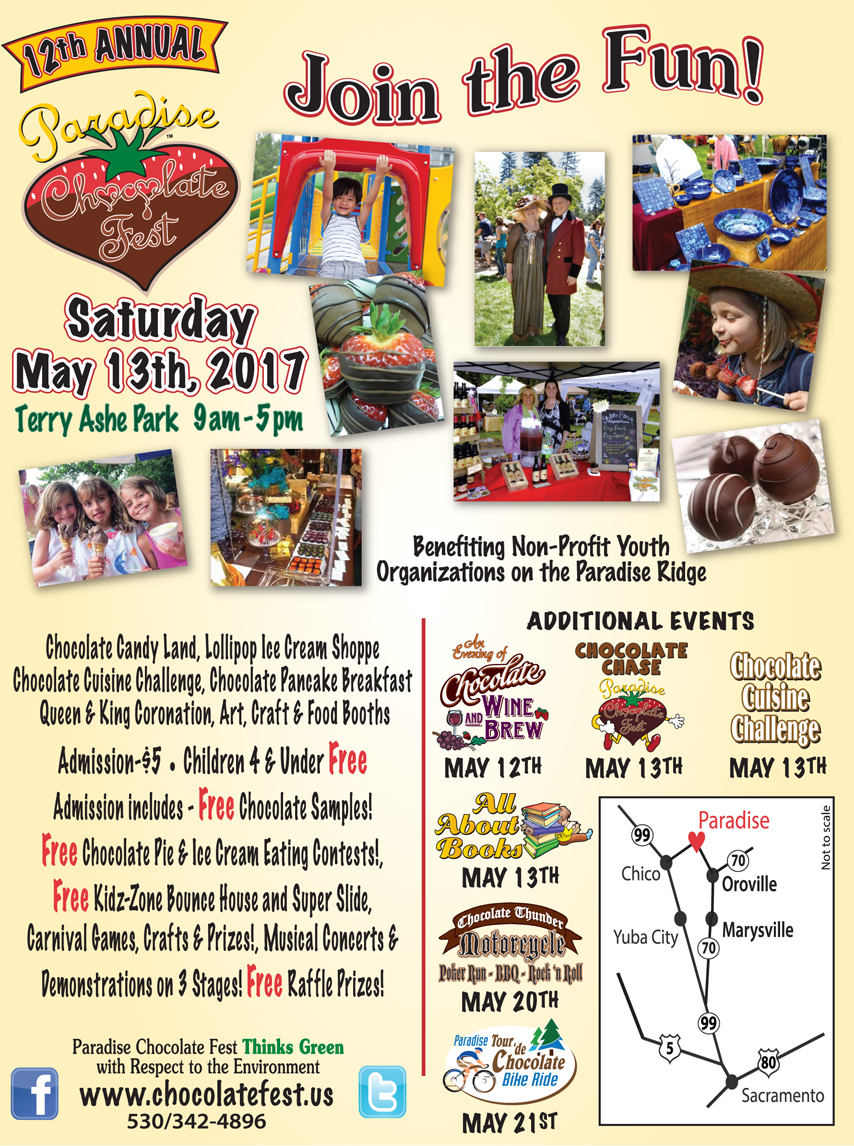 13th Annual Paradise Chocolate Fest! A Chocolate Extravaganza!
When: Saturday, May 12th 2018 ♥ 9:00 AM – 5:00 PM
Where: Terry Ashe Park & Recreation Center, 6626 Skyway in Paradise, CA
Admission: $5.00 • Children 4 & Under – Free.
Admission Includes - Free Chocolate Samples! Free Chocolate Pie & Ice Cream Eating Contests!
Free Kidz-Zone Bounce House & Super Slide, Carnival Games, Crafts & Prizes!
Musical Concerts & Demonstrations on 2 Stages! Free Raffle Prizes! Free Parking! Free Park & Ride Shuttle!
Support of Educational, Enrichment, Recreational & Leadership Organizations benefiting Youth on the Ridge.
Experience a chocolate paradise on the Paradise/Magalia ridge nestled among tall green pines in the foothills of the Sierra Nevada Mountains and overlooking the Sacramento Valley. It's in this community that strikes the perfect balance between its Gold Country historical past and all the comforts of today's living that a small group of individuals with big hearts and a love of chocolate are coming together once again to plan the 13th annual Paradise Chocolate Fest benefiting non-profit youth organizations on the Paradise Ridge.
The Fest will be held Saturday, May 12 at Terry Ashe Park on the Skyway in Paradise from 9 a.m. to 5 p.m. The Fest features Chocolate Candy Land where you can dip into decadence at the large chocolate fountain or visit chocolate booths and professional Chocolatiers with countless chocolate delicacies, desserts and confections for sale. Fest attendees may also enjoy a blast from the past by visiting fifties themed Lollipop's Old Fashion Ice Cream Shoppe, or taking a walk through the park and enjoying the musical concerts, art in the park, craft, commercial and community booths and a wide range of delicious food selections.
A very special highlight of this year's festivities will be "Chocolate Royale!" the crowning of the 2018 Paradise Chocolate Fest Queen and King and a sweet 13 Year Anniversary Celebration for all to enjoy.
Young Fest goers will have great fun visiting the Kidz-Zone including giant inflatables, carnival games and prizes, costumed characters, clowns, face painting, arts & craft projects, contests, hands-on exhibits & demonstrations and musical entertainment and performances.
To celebrate a sustainable event, the 2018 Paradise Chocolate Fest presents "Green Scene Outdoor Classroom" with interactive learning stations, hands-on activities and exhibits. While the delicious, decadence of chocolate remains front and center in the minds of Fest visitors, organizers are proud to demonstrate how responsible planning and actions can make a huge difference while educating participants and attendees and enhancing the festivities.
Special events throughout the day include a Chocolate Pancake Breakfast, Chocolate Chase Fun Run/Walk, Chocolate Cuisine Challenge, Chocolate Pie Eating and Cookie Stacking Contests, Super Sensational Ice Cream Sundae Eating Contest, Textile Art Show, Chocolate Hat Parade, a variety of Musical Entertainment on three stages and chocolate demonstrations.
For the convenience of Fest attendees – the Chocolate Fest offers complimentary "Park & Ride" Shuttle Service from designated lots to the Fest – providing 2,000 additional parking spots and all free parking. Plus, the B-Line Bus Service traveling from Chico to Paradise round-trip, dropping attendees off right in front of the Chocolate Fest.